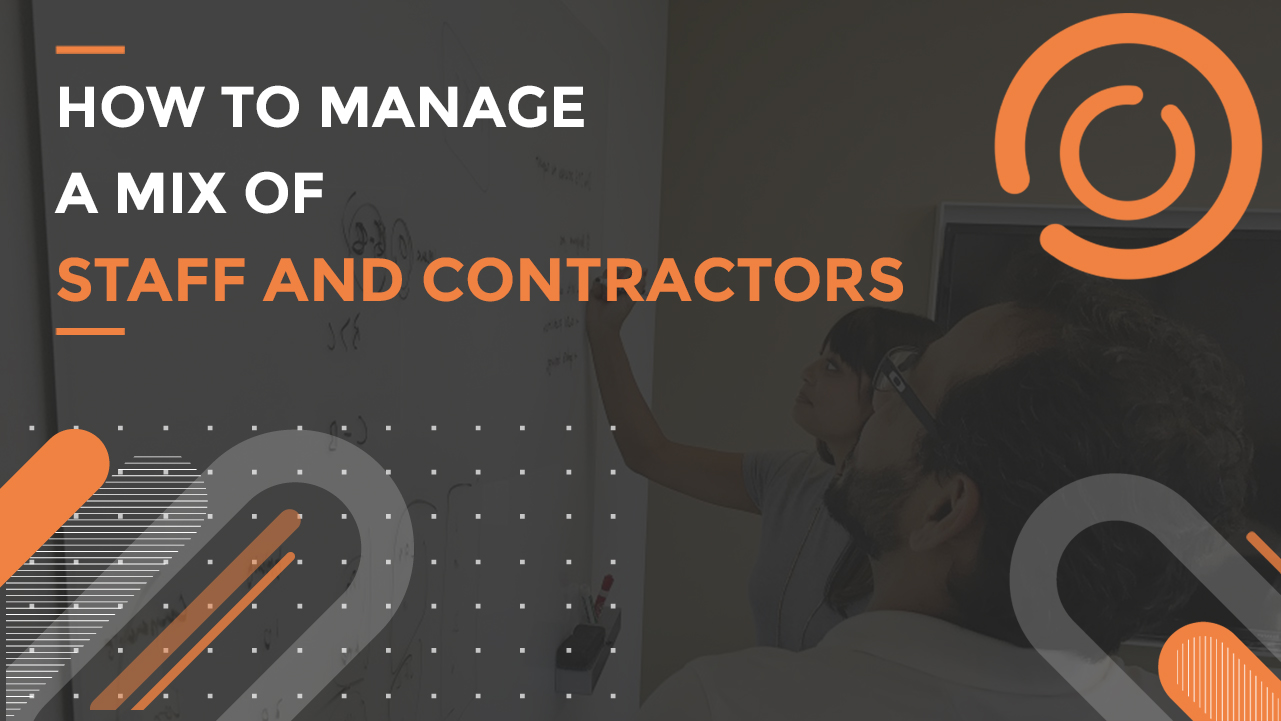 How to manage a mix of staff and contractors
Businesses should be constantly looking for ways to adapt and change with the times. This means not only moving with the market they operate in and keeping up-to-date with modern technology, but something more fundamental; how to get the most out of their team. 
It is no longer the case that the workforce is made up entirely of people interested in 9 to 5 Monday to Friday working shifts. Remote employees, part-time staff, flexible working, casual working and more, are commonplace, and this can be hugely beneficial, not only to members of staff, but to employers too. 
One of the fastest growing trends is the use of contractors. Contractors are typically brought in because they are able to offer specific expertise that a business only requires for a single project or for a short time. This could include everything from DevOps specialists to digital transformation consultants.
It can also be extremely useful for businesses working in more difficult financial times to avoid having large long-term payroll obligations, providing extra flexibility for the company's costs. But of course, it can come with challenges too. And one of the largest issues is how to successfully manage and integrate contractors with your staff. Here we take a look at some of the ways to do this. 
Ensure you take the time to onboard contractors properly
Some employers make the mistake of thinking that a strong onboarding process is only required for payroll employees. Actually, while contractors can just turn up and get on with the job it is just important for them to go through a thorough onboarding process.
Whether you are bringing in Atlassian specialists for a very specific project or a cloud contractor to overhaul your way of working, every person who is going to work for your business needs to understand how you operate. 
Avoid an us-vs-them mentality
You need to ensure that your staff don't feel in competition with contractors or vice-versa. Make sure that staff are aware of the specific reasons that contractors and being brought in – and treat contractors as much as possible like they are members of the team working towards shared goals.
Even if they have only been hired for a short time, while they are working for your company, contractors valued for the important input that they are having on the business. 
Manage performance the same way as you would your staff
Good performance is just as important for contractors as it is for members of staff. Good quality work should be praised and rewarded, just as it would with an employed member of staff. 
Conversely, contractors may need guidance and assistance on occasion. Ensure that whoever is managing your contractor staff is available to talk and provide help whenever the contractor needs it. 
Communication is everything
Contractors may be typically brought in to simply get on with a specific task. But this overlooks the fact that in properly managing contractors and getting the best out of them, your business must prioritise communication. 
Ensure that you are in constant communication with your contractors to understand where they are with their project, as well as to understand any issues that they might be facing, and providing assistance where it is needed. Contractors should be involved in team meetings where they can bring up points with the relevant people. You should also take the time to speak to them individually. 
Think towards the future
Just because you have brought in a contractor for a short time or for a specific project, it doesn't mean that this has to be the only time that you ever work with them. On the contrary, it is often the case that contractors will come into your business as an outsider and may have great ideas for other things that you can do or improvements that you can make.
It's a great idea to establish a really positive relationship with all of the contractors that you work with – it may be the case that you want to have them back sooner than you imagine, and you will want to be on good terms with them. 
At ClearHub, we specialise in helping businesses find the contractors they need to provide their team with specific skills. Specialising in Atlassian, Jira and DevOps contractors, we understand how to help businesses integrate contractors into their employed teams. If you would like to learn more about what we can do for you business, or to hire a contractor as a soon as possible, contact our friendly team today.